Fire Marshal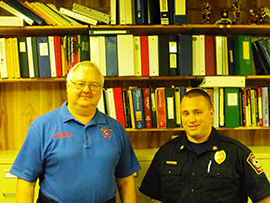 Smoke and carbon monoxide detectors save lives!
Helpful links:
Anonymous Arson Tip Line - 1-800-84ARSON 
We also strive to prevent and reduce the incidents of fires. This is accomplished through fire safety education. This increases awareness and knowledge of actions adults and children can take to prevent fires. Smoke and carbon monoxide alarms have been saving lives since they were invented. Please use and maintain them. If anyone has any questions regarding their use, please do not hesitate to contact the Office. 
The Office has a full time Fire Marshal, a full time Deputy Fire Marshal and several volunteers to accomplish our mission. 
Please remember, Fire Prevention – Everyone/Everyday
Duties and responsibilities as prescribed by State law include:
Performs fire investigations to determine the origin and cause of all fires in Seymour
Conducts plan reviews to insure construction complies with applicable fire codes
Performs inspections on construction projects
Conducts annual and semi-annual inspections on all properties other and one and two family homes
Issues permits for blasting
Issues compliance certificates for nursery schools and day care centers
Issues compliance certificates to Health Care facilities and Group Homes
Conducts fire code inspections prior to respective departments issuing liquor licenses and health permits
Conducts fire prevention and educations talks and training
Maintains fire marshal certification by attending mandatory continuing education courses
Inspects bulk tank installations of flammable and combustible liquids and gases
Inspect gasoline and diesel fuel dispensing stations
Issue permits and conducts inspections for fireworks and special effects displays
Inspects regulated tents and portable structures
Receives complaints regarding fire hazards and potential code violations and responds and investigates them as necessary
Provides safety tips and education on general fire code enforcement
Works closely with other Town Departments including Building Officials, Health Officials and Seymour Police and Fire Departments
Assists in the abatement of hazards regarding Hoarding