About Seymour
and a list of new accomplishments. One of America's first industrial villages, this appealing town has gone through its share of ups and downs since incorporating in 1850.
Categorized as a dying mill town in the 1980s, this diverse community successfully reversed that trend and became known as a prosperous and viable center for business and light industry, as well as a community that places importance on the education of its children and the quality of life of its residents.
Read more about the history of Seymour.
---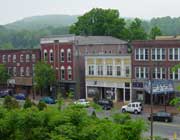 Downtown Area
Downtown Seymour's quaint brick sidewalk, old fashioned street lamps, Victorian buildings (known as "painted ladies") and bustling stores, combine with two of the town's many parks, a new shopping plaza, a new police station and middle school and a fish and kayak bypass on the Naugatuck River that will incorporate meandering walkways, to signal an aggressive revitalization of the downtown area.
---
Local Companies
The Kerite Company continues to lead the world in coated cable and wire. Silvermine Industrial Park, which is tucked on top of a hill, is almost completely occupied by high-profile companies that compete in the global market. It offers commuter buses to bring employees to the area from the shoreline cities. Visit the Economic Development page for more information.

---
Sister-City
Naklo-nad-Notecia, Poland, was adopted as Seymour's sister-city in 1998 and at least one profitable Polish American business partnership has been created through that relationship. Many friendships have also been established. Delegations of Seymour High School students and town officials have visited Poland several times to participate in an indoor soccer tournament. A polish delegation visited the U.S. in October 1999 and another in June 2002.

---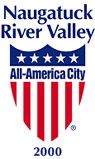 All-American City
This progressive town, along with the five other Naugatuck Valley towns that comprise the Valley Chamber of Commerce, was chosen to receive the 2000 All-American Cities Award. This honor recognized the efforts the Valley has made in the areas of public safety, youth services, and economic development.
---
Water Recreation
Water recreation opportunities abound along the five serpentine miles of the Housatonic and Naugatuck Rivers. Fishing (trout, sea-run browns, shad, salmon, bass, perch and pickerel are found in the rivers) and other water sports can be enjoyed. The state Department of Environmental protection has partnered with local and state agencies and conservation groups (most notable Trout Unlimited) to reclaim the Naugatuck River. Part of that project is the construction of an in-stream fish and non-motorized boat passageway that will create a challenging course for canoe and kayak enthusiasts. Construction on this project is under way.

---
Open Space and Parks
The Keith Mitchell Forest, named for the town arborist, is 229 acres of pristine land that was purchased by the town in 1998. Mandated to be kept as open space, it provides hiking and wildlife viewing for its visitors. Additionally, the state has purchase more than 350 acres of property to be kept "in perpetuity" as passive open space and guarantees that the scenic beauty of the hills will not be marred. This and other projects have shown that the local residents have a deep commitment to open space.

---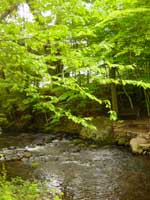 Residents can choose to visit any one of seven scenic parks, each offering different activities. Seymour High School provides tennis courts, softball, baseball and football fields, a rubberized track and an indoor pool. Other municipal parks offer hiking trails, playground equipment, softball fields, a baseball field, a soccer field, a Little League complex and a skate park where those who use a skateboard or inline skates have a place to enjoy their sports.
In 1999, voters approved the refurbishing of all town parks and that work continues today. A multi-use, lighted, sports utility field has been completed adjacent to Seymour High School.
---
Culture, Arts, Entertainment
The Culture and Arts Commission organizes an outdoor summer concert series at various locations in the community that features diverse musical styles. The high school Drama Club produces several professional quality plays and musicals and a regional theater company has scheduled several theater performances throughout the year. Commission members oversaw the renovation of the historic Strand Theater at 165 Main Street several years ago. The facility has been the recipient of generous grants and continues to upgrade its lighting and sound. The Art Deco period theater is used for films as well as live theater. It shows second-run feature films 7 p.m. Friday and Saturday and 4 p.m. Sunday.
In 1998 Entertainment Cinemas, a 12-screen movie theater complex in the Tri-Town Plaza shopping center, opened its doors. Located on Derby Avenue at exit 19 off Route 8, Entertainment Cinemas is the lower Naugatuck Valley's only multi-screen theater. This state-of-the-art complex offers movie fans stadium-style seating and stereo surround sound. A recorded listing of current movie features and ticket prices may be heard by calling the box office at 203-734-2000.

---
Seasonal Events
At special times of the year, annual celebrations such as craft and antique fairs, the Farmers Market and community parades give Seymour a distinctly New England flavor. The well-known annual Pumpkin Festival traditionally draws thousands of people to browse among handicrafts, food and other goodies. It is located at French Memorial park. Funds raised at this festival are distributed back to the community to fund projects and scholarships for local high school students. Founded by a Seymour resident, the very merry Seymour Christmas Parade has marched down Main Street some 30 years. Begun as a small town activity, it evolved to include several marching bands and colorful floats from across the state.

---
Library
The Seymour Public Library offers a variety of programs for residents from preschool age to senior citizen status. Children ages 3 to 5 enjoy story hour, consisting of finger plays, movement activities, musical activities and crafts. Pajama movie night invites youngsters to cuddle with their sleeping bag or a pillow and blanket, along with a beloved stuffed animal or favorite doll, while enjoying a popular kid flick. Young Adult Talkers for children grade 6 and up offers young people a chance to share their favorite books with kids their own age. Summer Book Club presents a gala kick-off and finale, in addition to prizes for those who participate in the program. For adults and older teenagers, the library provides adult craft classes and programs including CPR training, tax assistance, living trust classes and workshops in financial planning or funding a college education. Annual events include the popular Scholastic Book Fair, which are both sponsored by Friends of the Seymour Library.

---
Public Safety
The town's dedication to public safety and education gives its growing population the services to raise families and build businesses in safety. Seymour has its own police force, volunteer fire department and nationally recognized ambulance association. It is ranked as one of Connecticut's safest communities. The town's police department has a state-of-the-art Police Station on Franklin Street.

---
Public Education
The public school system has two elementary schools, a middle school and a high school. Even during an unforeseen municipal financial setback several years ago, the townspeople voted to fund education at a high level. The schools continue to emphasize school-to-career programs, as well as college prep, increased computer literacy for teachers and students, violence prevention and drug awareness programs. A new $32.5 million elementary school opened its doors in 2012. Visit the Seymour Public Schools website for more information.

---
Location
Route 67 connects Bethany, through Seymour to Oxford, Southbury and more. Klarides Shopping Plaza, Stop and Shop plaza, Tri-Town Plaza and Seybridge Plaza contain many different types of shops and eating establishments. There are more than 35 restaurants ranging from fast food franchises to an elegant banquet facility for business and social gatherings to a restaurant that caters to boaters. Route 34 connects New Haven and Derby to Seymour, Oxford, Monroe, and Newtown and beyond. Route 115 connects Seymour to Ansonia. Many outstanding retail and service businesses are found along its route. Seymour's convenient access to numerous surrounding towns and to the Route 8 corridor, which connects the Valley to Fairfield County and the shore, make an each business commute. Centrally located, the town is served by Metro-North commuter rail and by Connecticut transit buses to and from New Haven. The wide variety of housing and well-planned zoning enables the town to enjoy a thriving business sector without sacrificing its rural community atmosphere.

---
Whether you are doing weekly grocery shopping, looking for a unique gift idea, renting a movie or standing on the riverbank with a rod and reel, Seymour has everything one would need or want. Seymour is, indeed, the place, perhaps the perfect place, for families to live, shop, and play.