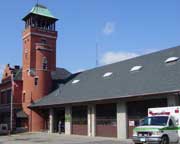 203-888-1909
The  Seymour Volunteer Fire Department provides fire and rescue protection for residents.  The department consists of two companies with a membership of approximately 150 volunteers.   It is managed by a fire chief and three assistant chiefs.  The fire chiefs report to the Board of Fire Commissioners whose members are appointed by the selectman.
Fire Chief:  Chris Edwards
Assistant Chief: Dave van Wart, Quinn Levey, and John Oczkowski
The following fire companies provide fire protection using 12 pieces of apparatus and four chiefs' vehicles.  Click on the link to go to their websites.
    Citizens Engine Company No. 2
Great Hill Hose Company
citizensBoth fire companies also sponsor numerous events such as Easter Egg Hunts and taking Santa through the neighborhoods prior to the Christmas holidays.
Please follow link to "Fire Danger of Connecticut"