Pistol Permits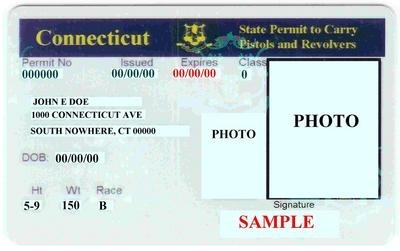 Please Read and Follow the below instructions for obtaining a Temporary Pistol Permit. 
Pistol Permits Seymour Application Packet and Instructions download
State Of Connecticut Pistol Permit Website/Resources
Fingerprint Pre-Enrollment Process
Follow the Instructions Carefully

1. You must be a resident of the Town of Seymour
2. Complete the entire Temporary Pistol Permit Application.
3. Schedule an appointment with the Seymour Police Detective Division by phone at 203-881-
7638 or e-mail at SPDDetectives@seymourct.org. Do not show up at the Seymour Police
Department prior to the scheduled appointment.
4. When the scheduled appointment had been confirmed the applicant should bring the items
listed below:
A. Valid State of Connecticut Driver's License or I.D. Card
B. Official Birth Certificate or Current Passport
C. Current and Valid NRA Certificate "Basic Pistol Course" that meets the State of Connecticut
statute requirements.
D. Self-addressed stamped envelope (Letter size 9.5 by 4.25)
E. Bank Check or Money Order paid to the order of "Seymour Police Department with the sum
of $75.00. (Personal Checks are NOT accepted). Note: Other State of Connecticut
processing fees will be applied at pre-enrollment online.
5. Pre-Fingerprint enrollment must be completed online with the State of Connecticut prior to the
appointment with the Seymour Detective appointment at the following website
https://ct.flexcheck.us.idemia.io/CCHRSPreEnroll/
A. Enter the following 8 digits on the pre-enrollment webpage AD6B-6295 then click the
submit button.
B. Follow the website instructions and complete all the fields. Mandatory fields are marked in
Blue, Bold, and with an *. When completed click on the button "Submit Pre-Enrollment
Button". Upon Submission there will be a on-line processing fee accessed of $88.25 to
you.
C. Upon completion a "Applicant Tracking Number" will be generated. You will need to print
the tracking number and the "Pre-Enrollment Conformation" to be electronically
fingerprinted at the Seymour Police Department.
6. If the above-listed instructions are not completed you will be turned away.
IMPORTANT: The LAST PAGE of the State of Connecticut DPS-299-C Pistol Permit Application
MUST BE NOTARIZED prior to submitting the Pistol Permit Packet
Note: Seymour Residents can only be fingerprinted in Seymour.